Unique Friendship Day Gift Ideas for Your Best Friend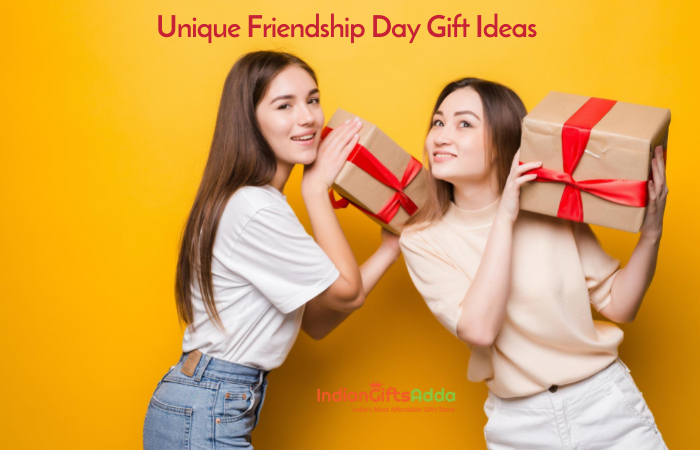 Friendship Day is a day that celebrates the bonds between friends. It's a time to show your appreciation for your best friend and celebrate their unique personality. Whether you're looking for gift ideas or just want to say "Happy Friendship Day" in person, these gifts will make perfect gifts for your best friend!
Unique Gifts for Friendship Day
Friendship Day Gifts for Friends
If you're looking for the perfect gift for your best friend, look no further than our wide selection of Friendship Day gifts. We have a variety of unique gifts that will make this special day even more memorable. From personalized jewelry sets to heartfelt t-shirts and mugs, we've got something for every budget and style preference!
Flowers for Friendship Day
Flowers are a classic gift for friendship day. They're beautiful, romantic and special—just like your best friend.
If you're looking for a gift that will make them smile, consider sending some friendship day flowers! Flowers are one of the most popular gifts to give on Friendship Day because they're so meaningful to people in general. Plus they look great just sitting on their table at home or in their office cubicle!
Friendship Day Chocolate Hamper
When it comes to friendship day chocolate, you can't go wrong with a hamper. This is the perfect gift for your best friend because it's something they'll enjoy, and they'll love that you took the time to find out what they like. Plus, chocolate is one of the most popular gifts for friendship days!
You can also make sure that your chocolaty friend gets a little extra love by including some treats themselves:
If they love drinking tea or coffee then try making them their own personalized mug or cup (you could even add some stickers!).
If their favourite candy bar is Snickers then get them those individually wrapped bars instead of cleaver wrapped pieces so there won't be any messes when opening up one of those delicious Snickers bars!
Friendship Day Greeting Card
You can celebrate Friendship Day with a greeting card. Greeting cards are a great way to express your love, care and loyalty towards your best friend. You can also send them blessings on this special day and wish them the best for their future.
There are many online greeting card websites that offer a wide range of greeting cards according to the occasion like Birthday, Anniversary etc. These sites allow you to design your own customized card by adding pictures of yourself or friends in it along with words from you which means more personal touch when sending out these gifts.
Friendship Day Photo Frames
Friendship Day is one of the most important days in your life. You can express your feelings for your best friend by sending her a friendship day photo frame. It's an ideal gift to show how much you care about them and make them feel special on this special day. The best thing about these friendship day photo frames online is that they come in different designs so you can choose the one which matches with their taste and preferences.
Friendship Day Handmade Cards
Friendship Day Handmade Cards are a great way to express your friendship with your best friend. You can make them yourself or buy them pre-made from the internet. If you're feeling crafty, then this is definitely the gift for you! You might need some help from others though so make sure that they will like what they see when they open their gift on Friendship Day!
Friendship Day Photo Cakes
Friendship day Photo cakes are a great way to express your feelings. They can be made out of regular cakes or chocolate cakes, and they come in many flavours such as:
Friendship Day Cake - This cake has the words "Best Friends" written on it in icing. You can make this cake by using different coloured icing and adding some flowers to make it look more colourful.
Happy Friendship Day Cake - This type of cake is also called as "Happy Birthday Wishes" because it has birthday wishes written on its top side so that every time you cut into your cake, you will get happy memories from your friends who have passed away but still wish for their eternal happiness through these messages!
Buy a beautiful Gift for your best friend
To make your friendship even more special, buy a beautiful gift for your best friend.
Your best friend is the person who has always been there for you and supported you through everything. It's important to show them that they are appreciated in order to keep the relationship going strong!
Conclusion
The best way to show your love and support for your friend on this day is by giving them something that they will treasure and remember.
Related Blog: Best Friendship Day Gifts 2022 - Beautiful Gift Ideas for Male, Female BFFs
signup newsletter & Offers

Get Directly to Your Mail Box
Copyright © 2022. IndianGiftsAdda.com - All Rights Reserved