Best Friendship Day Gifts 2022 - Beautiful Gift Ideas for Male, Female BFFs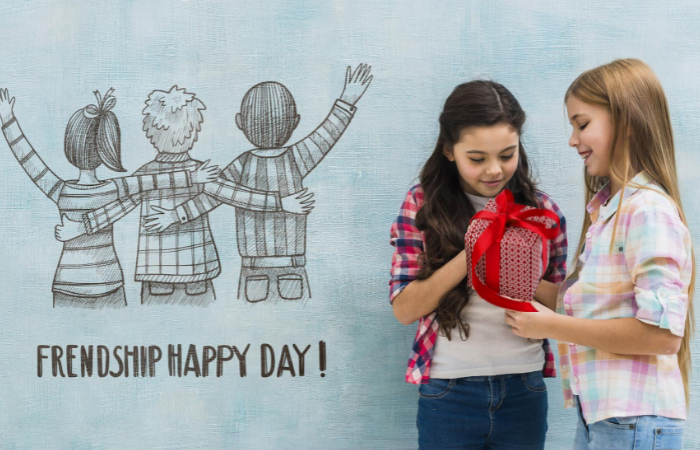 If you are looking for the best gift ideas for Friendship Day, then here is your go-to-guide. I have collected the best and most popular gift ideas that will make your friend feel special on this day. So let's dig in:
What are the best gifts for Friendship Day?
The best gifts for Friendship Day are those that are special and unique. They should be thoughtful and personal, original and creative, practical and useful. And they must also be affordable!
1. Friendship Bands
If you're looking for a gift that can let your bestie know how much they mean to you, then look no further than Friendship Bands. Friendship Bands are an amazing way to show your friend that they have a special place in your heart! We all have those people who are always there for us, and they deserve something nice on their friendship day.
This beautiful bracelet is available in multiple sizes and made of high quality materials so it will last forever!
2. Friendship Photo Frames
Friendship Photo Frames are a great way to display your bestie's favorite photos and remind them how much you care. They're also an excellent gift idea for newlyweds, couples of all ages and even parents who want to share their children's photos with each other.
3. Friendship Photo Mugs
A friendship photo mug is a great way to show your friend how much you care about them.
You can choose a photo of the two of you together, or if your friend has a family, you could choose one with their family as well.
Add text so that it shows them how much they mean to you!
4. Greeting Cards
Friendship day Greeting cards are an excellent way to say thank you to your friend. There are several different types of greeting cards: funny, sad, and cute. They can be given in person or mailed in the mail. If you're not sure what type of greeting card would be best for your friend, here are some ideas:
Funny Greeting Cards – These are great if your friend likes puns and sarcasm. A fun twist on this type of card is to get one that plays music when opened so it'll really catch their attention!
Sad Greeting Cards – If your friend has recently gone through a tough time or lost someone close to them than buying them a sad card might make them feel better about themselves even though they don't want anyone else knowing how upset they actually still are inside. These can also help remind people what their loved ones would have wanted before they passed away because sometimes people forget when bad things happen and end up feeling guilty later on down the road because they didn't act like themselves earlier on during those terrible times for whatever reason (e.g., depression).
Cute Greeting Cards - Cute cards are great for most occasions but especially good if you want something sentimental without being overly sentimental too much (it depends how long u know each other).
5. Movie Tickets
Movie tickets are a great gift for your BFF. There are so many options for this one. If you've been following along, then you know that it's not a bad idea to get your friends something they can do together. A movie is perfect because it gives you something to do together, but also gives each of you some alone time while others watch the movie or there's an intermission. You can even take turns seeing the same movie multiple times if you want!
For example:
You could buy two tickets and see something new on opening night with your friend or family member.
Or maybe they have been dying to see one of those big blockbuster movies that everyone's talking about right now (like Avengers: Endgame). In this case, just getting them the ticket will be enough because they'll get to go watch what they want without having to worry about paying anything extra—it's like free money!
6. Friendship Gifts Ideas for Friends Who Have Everything
Friendship Day is a day to show your love for your friends, so don't forget to get them something special. Remember that even though you have the same interests, your friend might not have everything that you do. When choosing a gift, try getting something that they don't already have or maybe even something they've wanted for a long time but never got around to buying themselves.
7. Personalized Clock And Calendar With Their Pictures On It
A personalized clock and calendar is a great gift idea for your BFF. You can put photos of both of you on the front cover of the clock, and he/she will be reminded of you every time he/she looks at it.
There are many options when buying a personalized clock or calendar, but this one is my personal favourite. It has plenty of space to write in all kinds of things that need to be remembered: birthdays, anniversaries, special days and events - anything that's important enough to remember!
It also comes with a pen in case something comes up while they're using it (like an important meeting).
8. Elegant Pieces of Jewellery for Her!
Diamonds Are a Girl's Best Friend
You could purchase your BFF jewellery that she'll cherish forever, like diamonds and pearls! Whether it's just a simple gold chain or something more intricate, a piece of jewellery is always an excellent gift.
If you're looking for something cute and affordable, earrings are the way to go! There are so many different styles out there—from dangly to studs to chandelier—so whatever gift you choose will surely be appreciated by your BFF.
A New Watch To Match Her Personality
A new watch can be an amazing addition to any wardrobe! Whether it's casual or formal, there's no doubt that every girl needs one (or two!) in their life; but what style are you looking for? If you want something simple yet stylish then try this gorgeous rose gold watch from Fossil Group:
9. A Smart Watch or Bracelet for Him!
A Smart Watch or Bracelet for Him!
If he loves tech, get him a smart watch or bracelet gift for Friendship Day. Smartwatches and fitness trackers are great ways to keep up with your daily activity, as well as make sure you never forget where you have been (if it has GPS). Wearable technology is one of the most popular ways to monitor health and fitness, so if he has been looking into getting one for himself, why not gift him what he wants?
10. Leather Boxes to Keep Their Things Safe!
You can never go wrong with a leather box! They make great gifts, especially for someone who loves their things to be organized. Leather boxes are available in many different shapes and sizes. They are also very durable, so they can be used for years to come.
If you're looking for something special or personalised gift for friendship day, you can even get your friend's initials or picture engraved into the leather.
Explore the amazing and beautiful gift ideas for friendship day to make your friend feel special and loved on this special day.
Friendship Day is a day to celebrate friendship. Friends are like family and relationships with them will always be strong, no matter what. But then, it's important to show your friend that you really care about him/her and want him/her to feel happy on this special day.
So what can you gift your male or female friend? We have come up with some amazing gift ideas for friendship day 2022!
Conclusion
We hope that you were able to find the perfect gift for your friend on this special day.
signup newsletter & Offers

Get Directly to Your Mail Box
Copyright © 2022. IndianGiftsAdda.com - All Rights Reserved