Best Way to Make First Anniversary Celebration Very Special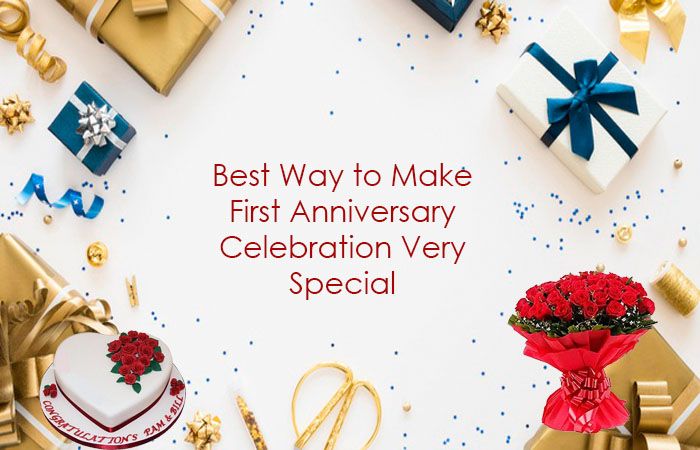 Seems like yesterday when you tied the knot of eternity? Being happily married is one of the best feelings and good times sure fly. It has already been a year and it is time to celebrate your first anniversary with your beautiful partner. We know that you do not know how to celebrate your anniversary as it is your first one. However, we are here with the best first anniversary gift ideas for wife or husband.
Traditionally, the first anniversary is supposed to be a paper anniversary (you are supposed to give paper based gifts to your partner). But who needs to follow these traditions. You can start by making your own traditions for anniversary celebration. Now let us turn our attention towards 1st anniversary gift online.
Personalized Gift Items
No two wedding anniversary celebrations are the same. Then why should gifts be the same? Present your soul mate with personalized gift items for a truly exclusive gifting experience. Personalized gifts like personalized mirror, glass photo frame, and photo mugs make the recipient feel extra special. Choose these gifts as surprise gifts for husband on first wedding anniversary. He will be flattered.
Flower Gifts
Impress your lovely wife with lovely flowers for your anniversary. Shop for Beautiful Flower arrangements to amaze your beloved wife with red roses, gerbera, anthurium, orchids, tulips, and other dainty ones. Go for heart shape bouquet or a big basket of flowers to let her know how much you love her.
Anniversary Cakes
Amaze your partner with a delicious cake in the middle of the night or let him/her wake up to the sight of a freshly baked anniversary cake. Order first anniversary cake from an online gift store to ensure that you get a variety of cakes to choose from. Photo cakes, heart shape cakes, eggless cakes, designer cakes, tier cakes, fondant cakes, and fusion cakes will be the best bet.
Candle Light dinner
Go back in time and remember the first date that you went on with your partner. Try to recreate each and every aspect of it. Do one better, make it a romantic candle light dinner. From decoration to the menu, take care of everything yourself and then get gifts for your spouse too. Opt for the same day first wedding anniversary gifts delivery to ensure that the gifts are delivered to your love within hours.
Chocolates
The heavenly taste of chocolates and your unfathomable love is the perfect anniversary gift combination to win over the heart of your beloved. Get a delicious anniversary chocolate gift hamper consisting of your partner's favorite chocolates. You can also go for an imported chocolate basket or an Indian chocolate basket.
Apart from these romantic anniversary gifts for her and him, you can indulge your partner in other anniversary gifts. Your anniversary is the time to get creative. The more creative you can get, the stronger will your bond get over time. For all those not so creative ones, we recommend making DIY gifts, taking your partner on a long drive, going on a small getaway vacation on the beaches, amaze your husband/wife with electronic gadgets, or even get a couples tattoo.
Choose 1st anniversary gift for husband from an online gift store and you can send gifts while chilling on your couch. One added benefit is the amount of variety that you will get at online gift stores. So bring out the detective in you, zero in on the best online gift portal and start choosing first anniversary gifts for wife or husband. We hope you surprise your partner and get an even bigger surprise in return.
Recent Blog: 5 Best Gift Ideas For Your Super Cool Mother
signup newsletter & Offers

Get Directly to Your Mail Box
Copyright © 2021. IndianGiftsAdda.com - All Rights Reserved