Valentine's Week – Celebrate Each Day with Same Day Gifts Delivery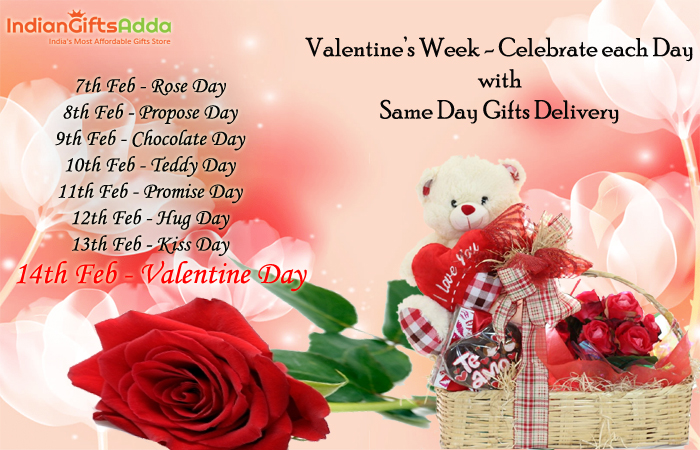 Since the beginning, we have been made to believe that Valentine's Day is all about roses, gifts, candies, proposals and cute soft toys. Whether you have been trying to talk to a girl for a long time or want to propose her, this is just the right time to share your feelings. But wait, have you ever thought about what's so special about this day? the day holds its importance because the celebrations starts a week before 14th February. In February, the occasion is celebrated from 7th February to 14th February which is commonly known as the Valentine's Week.
What are the days celebrated in the Valentine's Week list 2020?
February is coming, so is Valentine's Week. The week holds its importance as a week of love and romance. Couples enjoy and celebrate each and every day of the week by giving gifts to each other. Let's have a look at each day of the week and find the most suitable gift for each day:
1. Rose Day: The first day of the week is rose day. On this day, according to the Valentine's Day ideas for gifting guide, couples give roses to each other. You can order red rose bouquet, red and white rose's basket or a single rose for this day.
2. Propose Day: This is the second day of the week and is celebrated on 8th February. The day is made especially for the new lovers who wish to share their feelings. If you are willing to express your heart, then wait for the propose day and start a new relationship. Take a nice bunch of flowers with a cake to make the occasion impressionable.
3. Chocolate Day: Chocolate day comes on the 9th day of February and holds the importance of adding sweetness in life. As the name says, on this day take a chocolate basket or chocolate bouquet for your loved ones and pray for better life full of love.
4. Teddy Day: Teddy bear is one kind of toy which is made of comfortable cotton, smooth fur and covered with forklike plush. Give this cute and furry soft toy to your cutest and handsome man on Teddy day. Make the best use of the website and send Valentine's Day Teddy Bear online using same day gifts delivery.
5. Promise Day: Promise day is not only for couples but for every relation. On this day send a beautiful greeting card to your loved ones using online Valentine Gifts Delivery service.
6. Kiss day: One of the most touching expression of love is kiss. On kiss day, order gold pendant with lips on it on Kiss day and celebrate the day in a unique manner. You can also find other options in Valentine's week gift ideas available on the website.
7. Hug Day: Hug is the purest form of expressing your feelings. Hug day is celebrated a day before Valentine's Day, so, get your gifts ready, go on a date and make a memorable evening.
8. Valentine's Day: 14th February is known as the day when St Valentine blesses all the couples with love. Increase love and romance by giving personalized gifts to your lover and shower all your love on this day.
Related Blog:- Red Roses for Valentine's Day – It Speaks the Language of Love
signup newsletter & Offers

Get Directly to Your Mail Box
Copyright © 2021. IndianGiftsAdda.com - All Rights Reserved