Valentine's Day Quotes to Warm Your Dead Hearts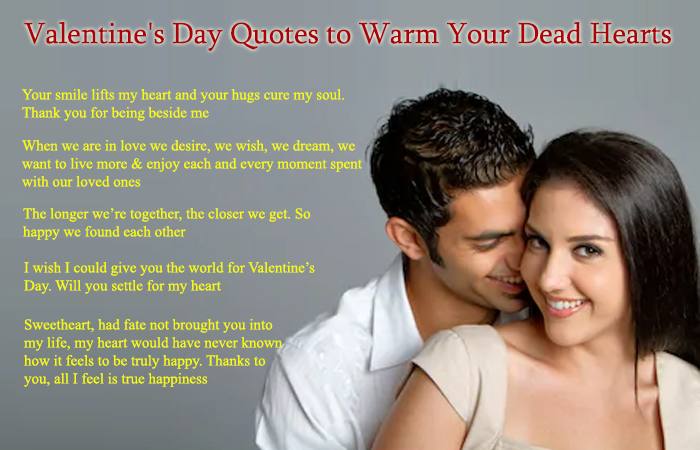 Valentine's Day is all about bringing smile on someone's face you care. It is the perfect time of the year when you wish to be romantic and you show your dedication and commitment towards your love but at the same time, you are allowed to be naughty and humorous. You may tease your partner and he / she will not mind. In fact, these Valentine's Day funny quotes bring back the spark and cuteness in the relation.
Imagine just a night before you have had an argument with your partner and you are trying to calm her down. You try many things but you get no response. Now try being cute with these Valentine's Day funny status:
A candlelight dinner with long stemmed roses sounds like a deadly combination for my inflatable valentine.
I really wish I could kiss you on Valentine's Day but that does not going to happen.
Apart from being beautiful, what do you do for a living?
There's just one thing I want to change about you, that's your last name. Happy Valentine's Day!
If I were a hunter, then I must be a bad shooter because every time you cross my mind, I miss you.
It's not my fault that I fell for you, you tripped me. Happy Valentine's day
When you start posting such status and when your partner reads it, he / she is sure to melt his / her heart on your cute trials. Your Valentine's Day is sure to be a perfect one. Funny Valentine's Day quotes warm a dead heart then your partner is just a bit upset and is sure to be delighted.
Let the love flow in the air and leave no page unturned this Valentine. There are many ways in which you can express your love and feelings. Make your love life happier and enjoy every bit of this relation. You may not necessarily wish Valentine's Day to your love but it can be a friend, relative, or family too. Check a few Valentine's Day funny Jokes below:
I'm tired of love; I'm still more tired of rhyme; but money give me pleasure all the time.
It's impossible to love and be wise.
Love is the thing that enables a woman to sing while she mops up the floor after her husband has walked across in it with his shoes on.
Love puts the fun in together, the sad in apart and the joy in the heart.
Recent Blog: Reasons why Girls Love Teddy Bear most
Love is an incredible feeling whether it is for your partner or your love for your family and friends. There is no better way to show your love than expressing it with your entire heart and soul to the person. Let the receiver feel your enthusiasm for your love and care. Spread joy and happiness around in a unique way this year. Let's not hurt hearts rather lets rejoice the feeling of love between you and your loved ones by showing your unconditional and irrevocable feelings. Use our same day Valentine's Day flowers delivery and send your personal message along with flowers and make the day of love memorable and warm the heart of your special one.
signup newsletter & Offers

Get Directly to Your Mail Box
Copyright © 2021. IndianGiftsAdda.com - All Rights Reserved