How to Send Mother's Day Gifts to India from USA on Same Day?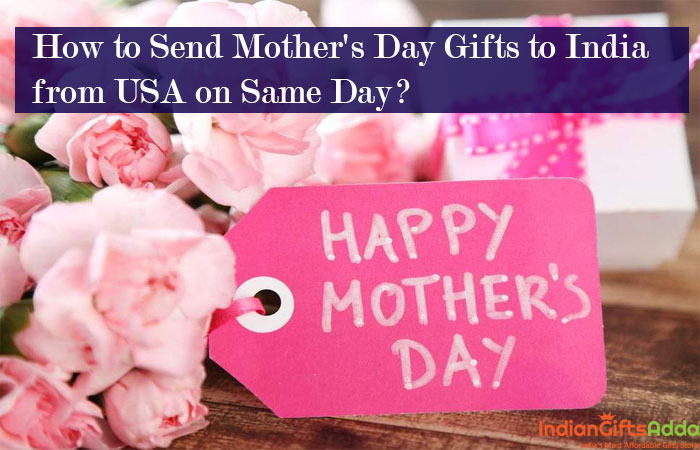 Whatever we are, we owe it to the mothers. Mothers are a great influence on our lives and the world could not be imagined without the boundless love of a mother. Mother's Day is celebrated around the world to honor this boundless love of mothers. In India, as in the states, Mother's Day is celebrated every year on the second Sunday of May. Henceforth, this year Mother's Day will be celebrated on Sunday, 12th May.
Now, are you wondering how are you going to send gifts to your mother back here in India? Are you baffled about what gift to choose for your dear mother? Are you afraid that your gift will not reach at the doorsteps of your mother in time? Throw these concerns out of the window as we bring you the best Mother's Day gift ideas that you can choose from and amaze the shining start of your life, your mother.
Send Mother's Day gifts to India from USA using the services of top notch online gift stores like IndianGiftsAdda. Scroll through the vast collection of gifts for mom on these websites and select the gift that your mother will be delighted to get. Cakes, flowers, chocolates, dry fruits, fresh fruits, personalized gifts, plants, sarees, or accessories, choose from a plethora of gifts and get your gifts delivered right at her doorsteps.
Related Blog:- The Perfect Mother's Day Gift Guide 2019
Most renowned online gift stores offer you express delivery services to send Mother's Day cake delivery in India from USA. Cherry pick one from the wide array of cakes which includes photo cakes, tier cakes, heart shaped cakes, red velvet cakes and others. One can also send chocolates online choosing from the collection of the best national as well as international chocolates.
You might be 24 hours' flight away (or more) from your mother but your gift is just a few hours from her. Opt for the same day gifts delivery in India from USA while ordering the gift to get the gift delivered the same day. The same day delivery helps you immolate all your gifting worries while keeps the surprise intact.
Your mother is special and she must not have to wait for her gift. Opt for same day delivery while taking flowers delivery in India from USA or ordering other gifts. Not to mention, add a greeting card to your gift and express your love for her and tell her how important she is with a beautiful greeting card.
Mother's Day is about honoring mothers and IndianGiftsAdda has the utmost respect for all the mother, in India or abroad. That is why we have premium gifts and a diligent delivery network which does not only serve people living in India but transcends boundaries and helps you send gifts to your mother from anywhere in the world. Scroll through the gifts collection, add the product to cart, opt for same day delivery, sit back and wait for your mother to call you up and thank you for the wonderful surprise.
signup newsletter & Offers

Get Directly to Your Mail Box
Copyright © 2021. IndianGiftsAdda.com - All Rights Reserved