How to make Rakhi at Home?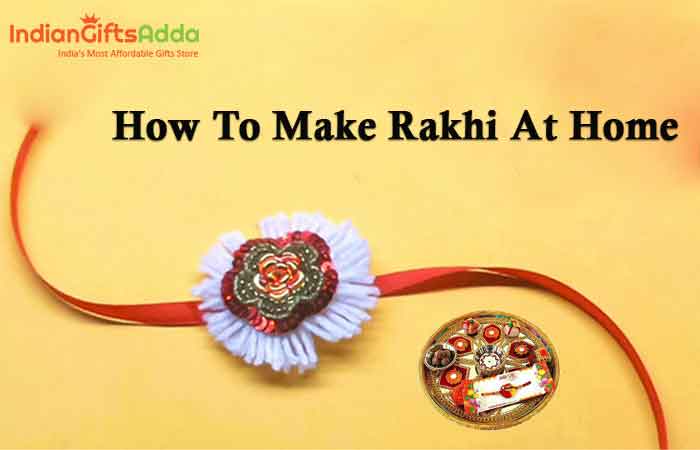 It's always being a wonderful feeling when you send Rakhi to your lovely brother that you make its own at home with love. Rakhi that you make at home with your hands express your eternal love to your beloved brother. So this blog is all about How to make Rakhi at home to your lovely Bhai, Bhai Bhabhi, niece and nephew and others. We come up with creative new ideas to make homemade Rakhi designs to amaze your brother with the beautiful homemade Rakhi.
As this festival of Rakhi is the symbol of love between brother and sister. Every sister want to make this special day more memorable. So what are you waiting for? Make homemade Rakhi for brother with paper, pearl and wool etc.
You can make beautiful homemade Rakhi designs with paper and satin ribbon. You can cut the crafting paper in any of the design. You can make any type of flower design with paper and use the satin ribbon to tie it. You can make homemade beaded Rakhi for brother with colourful beads and amaze him with the beautiful Rakhi. Also make simple homemade Rakhi with waste material and make it elegant and unique. Nothing goes waste if you have the creativity to utilize it in a beautiful thing.
Make beautiful wool Rakhi at home to your lovely brother. All you need is colourful wool, beads and scissor. Wool Rakhi is one of the best homemade Rakhi design idea as it looks more beautiful on the wrist of lovely brother. This Rakhi make beautiful and simple homemade Rakhi designs to your beloved siblings and amaze them with your wonderful Rakhi creation. You can also make zari Rakhi designs at home. You can go to any tailor shop and purchase zari designs like flower, peacock and geometrical designs make beautiful handmade Rakhi at home. All zari designs come with a fabric backing that's easy to fix or stitch onto a satin ribbon or gold thread to make your very own Rakhi at home.
You can also make Rakhi for kids at home. As we all know that kids love the character Rakhimost. They start to jump by looking their favourite character Rakhi. This Rakhi makes homemade character Rakhi to your loving kidsand filled the day with lots of joy and happiness. Make Doremon character Rakhi, aeroplane, and many more.
Make beautiful mauli Rakhi with the mauli and beads at home to amaze your loving and caring Bhabhi. Kundan Rakhibracelet is also a creative idea that will look more elegant and beautiful.
Related Blog: Send Rakhi Gifts to India
Hope All this creative ideas for homemade Rakhi designs will help you to make handmade Rakhi at home to your loving brother and their kids.This year make Rakhi festival more delightful and cherishable by making homemade Rakhi for lovely brother. Send Rakhi gifts to India along with homemade Rakhi to their beloved brother and get it deliver on the same day with our online rakhi gifts delivery in India.
signup newsletter & Offers

Get Directly to Your Mail Box
Copyright © 2021. IndianGiftsAdda.com - All Rights Reserved