Gift Ideas for Valentine's Week 2020 – 7 Days of Love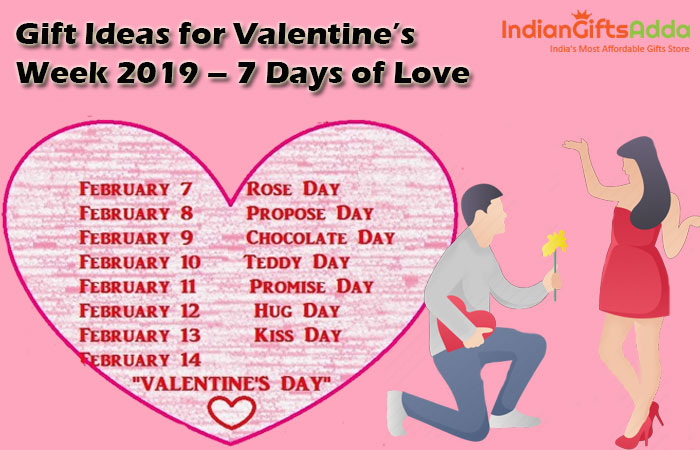 So just a few weeks ahead, the countdown for Valentine week begins. So make sure you make that entire week special for your valentine this year. Here we have for you the most romantic gift ideas that you can give to your loved ones and sweep them of their feet!
So let's start with Rose day as it is the marks the first day of valentine week. Of course, you must send red roses for Valentine's Day, just make sure to make it a little more special. You add his/her favorite chocolate in the bouquet as well. Another popular choice is a 500 rose basket. Our suggestion if you have been looking for something exquisite is
Propose day (8th February)
So have been in love with someone for a long time, still not able to express your feelings? Then propose day is the perfect day to just say what you feel. How about a personalized cushion that says everything that you feel? You can also send I love you lollies if your loved ones have a sweet tooth. Add a special greeting card with it to make it all the more special.
Chocolate Day ( 9th February)
So love and chocolate are a synonym at times. Valentine's Day chocolates can be sent as a unique gift as well. You can send a bouquet of chocolates to your girlfriend and surely she will love it. How about adding a little bling? You can do this by sending some really class earrings as well. Ferrero Rocher chocolate hamper is another popular option. And if you are a desi at heart you can also add a box of Kaju katli and ladoos to the hamper and your loved ones will have an absolute feast.
Related Blog:- Red Roses for Valentine's Day – It Speaks the Language of Love?
Teddy Day (10th February)
These absolutely cute, cuddly and lovable teddies are loved by all women. You can send a giant I love you teddy bear or select a bouquet of cute little teddy bears that will be something unique. If you are giving it to a guy you can also add his favorite perfume to the combo as well and they will love this gift. Favorite bouquet of flowers can also be sent with the cute teddy bear as well.
Promise Day (11th February):
The most precious gift to give your loved ones is the promise for eternal love. Surely you can also add something extra for just making them feel the warmth of your love. You can send a personalized coffee mug with a personalized message and a picture of you two. A personalize photo stone, is something that is very different and unique and will last forever just like the affection you have for each other.
Everyone loves a getting a tight hug from the people they love. And in case you live somewhere far, send a giant teddy to your loved ones and they will love this cuddly hug. Also, make it sweeter by sending a chocolate cake with it.
Kiss Day (13th February):
A personalized cushion with kisses all over it is perfect for this day. A pink carnation bouquet will also speak a lot on your feelings, without saying much.
Valentines' Day (14th February):
So finally comes the day of celebration of love. Heart shaped cake, with a bouquet of Ferrero rocher chocolate bouquet, is exceptional. You can also send valentine gifts to India in case you are in a different country. You can gift your girlfriend/ wife with amazing jewelry and your boyfriend their favorite perfume.
So, these are the top Valentine's week gift ideas in 2020. We offer Valentine's Day flowers delivery on same day, in case you remembered it the last minute.

signup newsletter & Offers

Get Directly to Your Mail Box
Copyright © 2022. IndianGiftsAdda.com - All Rights Reserved