Five Creative Ways to Celebrate Karwa Chauth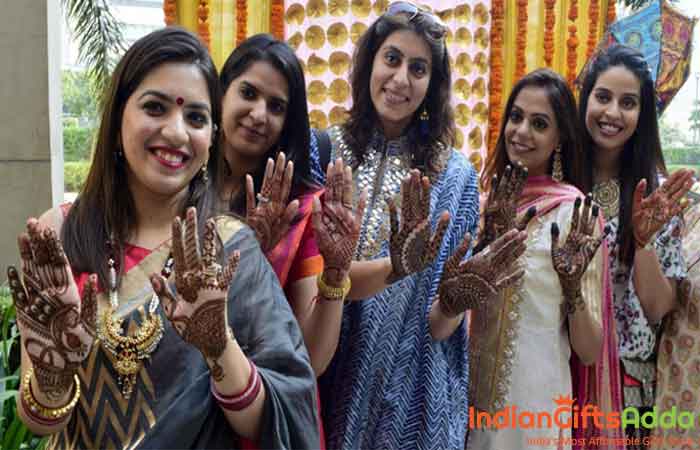 Karwa Chauth is an Indian Hindu festival that is celebrated in the some regions of India, especially in northern part of India by married women for the longevity of their husbands. They do fasting from sunrise till moonrise for the sake of good health, prosperity and longer life of their beloved partners. They do fasting for whole day even after they celebrate this auspicious festival of Karwa Chauth with lots of enthusiasm and zeal. All women follow all the rituals wonderfully that signifies their eternal unconditional love for their husband.
This year, it is falling on Thursday 17 October 2019. To celebrate this auspicious festival of Karwa Chauth differently and amazingly we are here curated five creative ideas to celebrate Karwa chauth 2019.
Organize Mehndi Competition
As we all know that on this festival, all the women buy new clothes, jewelries and other stuff to look beautiful and put mehndi on their hands. Why not make this little bit interesting by organizing Mehendi Competition. All the women's will participate in it and show their creativity by putting Mehndi designs on the hands of other women and win the prize for putting a beautiful Mehndi. It is one of the idea that can be used to celebrate the Karwa Chauth Mehndi ritual and the winning will get a beautiful Karwa Chauth gift. Give a beautiful Karwa Chauth gifts and enjoy the festivity with all the lovely ladies.
Strengthen your bond with Mother-in-Law
Karwa Chauth is the only festival which is most important day for you as well as your mother in law. On the occasion of Karwa Chauth, mother-in law give sargi to their daughter in law and follow the tradition. Not only follow the ritual of sargi, this Karwa Chauth strengthen your bond with your mother in law. Spend some quality time with her and share your thought and feeling and ask her likes and dislikes and surprise her by giving a beautiful gift. Give her a personalized Karwa Chauth gift and make her feel happy and blessed.
Candle Light Dinner
As all the women keep fasting for whole day for the longevity of their husbands. In return, all the men also plan to do something special to make their day memorable. There are many ways that you can look to impress your wife. One of the best way to amaze your wife is plan a candle light dinner in a renowned hotel and express your love and feeling to her and make her feel special.
Organize Theme Party
Theme parties are always be the best idea to celebrate any occasion and festival. Avoiding the food craving and tiredness on the Karwa Chauth festival, arrange a village theme, retro theme, mythological theme party and enjoy it with all lovely ladies. In the theme party, you can do lots of fun activities like play cards, truth and dare game, dance and many more things to celebrate the festival.
Plan a Surprise Trip with Your Partner
After Doing all the rituals and breaking the fast why don't you go out with your husband on a trip to enjoy the loveliest day and make your Karwa Chauth festival more wonderful and exciting. This is one of finest way to spend quality time with each other. Even you can surprise your wife on a trip by giving her Karwa Chauth gifts like red rose bouquet, jewelries, and beautiful saree and so on.
Make your Karwa Chauth celebration more impactful and cheerful with these five creative ideas and enjoy the festivity.
signup newsletter & Offers

Get Directly to Your Mail Box
Copyright © 2021. IndianGiftsAdda.com - All Rights Reserved