Buy Surprising Diwali Gifts for your Loved One from IndianGiftsAdda.com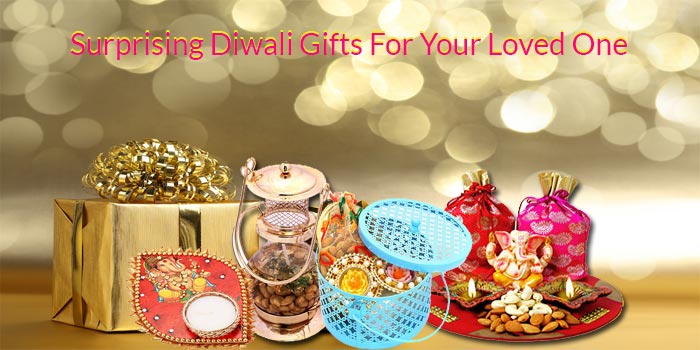 India is a country full of traditions and culture activities. The people of India consider each and every occasion special and believe in celebrating them with relatives and acquaintances. People exchange gifts, spend time with family and friends in order to rejoice the occasion. Diwali is one of the main festivals of India where people buy and send diwali gifts as a gesture of wishing diwali.
If you are away from your family, buy diwali gift hampers to India and send them through diwali gifts delivery online. With the help of the internet, purchasing diwali gifts has become easy and less tiring. You can find a wide variety of unique diwali gifts online exclusively available at IndianGiftsAdda.com.
What are the items available at IndianGiftsAdda.com for Diwali? Here are some of wide selling items available at the website under the column Diwali Gifts 2017, start searching and keep on ordering:
Dry Fruits: A festival is incomplete without a beautiful palette of dry fruits. Almonds, walnuts, cashews and all other dry fruits look elegant and royal when it comes to greeting your guests. Buy online dry fruits for diwali and use online diwali gifts delivery so that your gift reaches on time.
Chocolates: Chocolates are meant to add sweetness in life. Whenever you are feeling low, just grab a chocolate and uplift your mood in no time. Similarly, if you are unable to meet your families on diwali send diwali chocolates to India with the help of IndianGiftsAdda.com and uplift your family member's mood within a minute. The website also offers different combo offers along with chocolates so that you can choose the best amongst a variety of options.
Sweets: Festivals are meant to be celebrated with family with loads of sweets and mithai. There are different types of Mithai's available at the website like Kaju Barfi, Laddoo, Rasgulla, Gulab Jamun and the list goes on and on. If you are planning to send diwali gifts, then a gift without a box of sweets is incomplete. No matter where you are, buy diwali gifts to India, choose your combo of sweets and use online diwali sweets delivery service offered by IndianGiftsAdda.com. Make diwali a day of fun, happiness and full of gratitude and blessings.
Customized Gifts: IndianGiftAdda.com offers customized gift items according to the occasion. If it is Valentine's Day then there are teddy bear's, cakes, goodies and chocolates available for the occasion. Similarly, for diwali send mithai for diwali online and buy diwali gift items online exclusively customized according to the festival. You can get anything customized for diwali and choose same day delivery option for diwali so that no person feels neglected.
IndianGiftsAdda.com is an amazing platform to send gifts for diwali without any hassle. Take out time out of your busy schedule, have a look at the website and enjoy purchasing for diwali and surprising your family with a bunch of gifts. Enjoy your day with IndianGiftsAdda.com with amazing goodies.
signup newsletter & Offers

Get Directly to Your Mail Box
Copyright © 2021. IndianGiftsAdda.com - All Rights Reserved